For the record, I've successfully used 40GB to download all my educational materials and quality movies in HD. I think you should do the same before it will be cleared out of existence.
Some of you, by the time you'll be reading this, the tweak might have been blocked, cleared or discontinue; but if you are smart enough and lucky enough, download all you can now because it might not last up to 48hrs.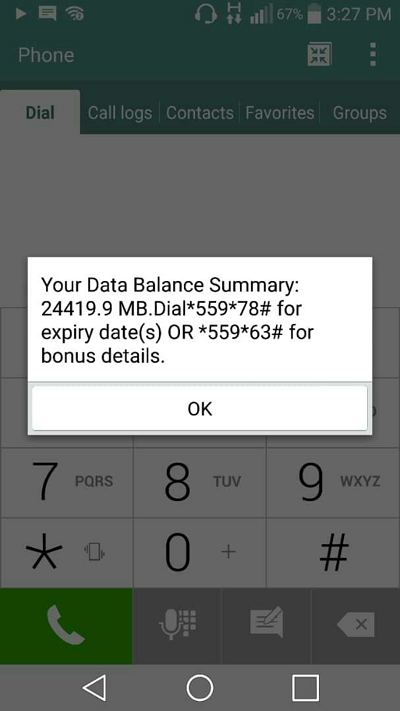 *** UPDATE****    This Tweak Has Been Discontinued –
MTN N50 for 5GB, N200 for 20GB
This is simple, Dial *123#
Choose option 3 (Data Services)
Choose option 3 (Buy Goodybags)
Then choose option 6 (WECHAT) and subscribe to WeChat weekly for N50. Once you've successfully subscribed, dial *131*4# and you'll see 5GB Data. It can be accumulated! If you are not eligible for the plan, you'll get "you don't have active data plan on this …"
Note: This tweak is sim selective and if you are so unlucky to get it, then continue with normal Data plan.
Validity period is 7days.
MTN mPulse Data Plan
MTN mPulse: is still rocking and you get 1.2GB for N150. It powers all your applications. With KPN tunnel VPN you are good to go. Please check this post for guide.
However new users can no longer be migrated to the plan. If you are an old user, stay their otherwise you won't be migrate back to the plan once you are out.
Glo:
One thing I love about this network is that whenever you recharge, you get 200% of your airtime, which you can use to browse, call other networks and do otherwise depending on the packaging you are currently rocking…
You recharge N1000, you get extra N2000 = N3000. Use N1000 to subscribe for your data and rock the hell out of the remaining N2000.
However, I pointed out here that Glo network drains the hell out of smartphone battery which is not nice at all.
Glo OgaSim:
Glo Ogasim gives you 125% bonus data whenever you recharge your line before your current plan expires. Guys are rocking it.
Take for instance, when you recharge with N1000, you get 4.8GB. N2500 gives you 14.4GB to last you for 30 days which you can always roll over.
Airtel NG
How many of you enjoyed the tweak before it was discontinued? Nothing is so sweet like cheap browsing data plan.  For now, you'll need to go with the normal Airtel Data Plans by dialing *141# except you want to download therefore we'll recommend Night Crawlers Plan.
For Night Crawlers:
Do you have heavy file to download? Then I'll suggest you make use of Airtel Night plan because it's currently the cheapest plan.
To Activate Airtel Night Plan
This plan is exclusively for SmartTRYBE users on Airtel, it means you must migrate to Airtel SmartTRYBE before you can enjoy the offer, dial *312# then reply with 1
To Subscribe to Airtel 1.5GB for N200, 500MB for N25 and 1GB for N500
» Simply dial *312#
» For 500MB which cost N25 and 1.5GB for N200, reply with 3 – Night Plan from 12am – 5am.
Dial *140# to check your balance.
Ntel:
How many of you are still using ntel? Subscribers has been complain lately about this network and we don't know what the management is doing about it. However, you can still activate 12GB for N1000 by simply recharging your line and contacting their CC.
See guide here.
9Mobile:
For now, I can confidently say this is the most expensive network to surf the net with. This is why I don't always write about them.
Airtime Giveaway
The following people should inbox me their number: Alfabest, ViVi, Ify, Romeo Aje, Cornel Austin, Ike Chinedu, R&B Music, Obianuju, Jendo David, Kaynues.
Happy New Month!