I told you earlier on that HMD Global didn't come back to play, but they came back to takeover… Well, another new feature phone has been introduced, dubbed Nokia 106.
Nokia 106 feature phone is the successor of the old Nokia 106 that was introduced back in 2013. It has the same 1.8-inch (160 x 128 pixels) TFT display with 4-way Navi Key and the same 800mAh battery.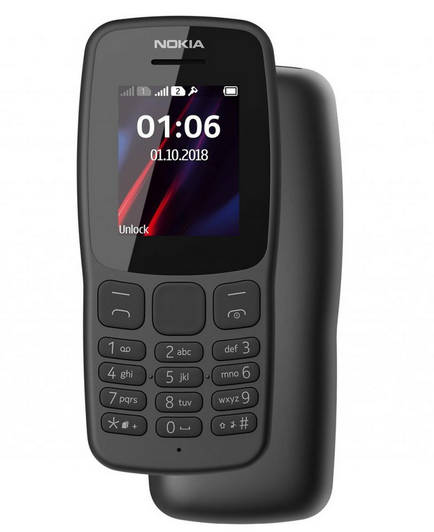 The RAM is up to 4MB (note the "M"). There's no camera as you can imagine, there's not enough storage for photos and the 1.8" 120 x 160px screen wouldn't make for a great viewfinder. It's perfect for some Snake Xenzia gaming, though.
It has a polycarbonate body, contoured design and the 800mAh battery promises 15 hours of talk time – a forgotten joy of feature phones.
Nokia 106 (2018)can store up to 2000 contacts and 500 text messages.
Highlight Specifications of Nokia 106 (2018)
Display: 1.8-inch QQVGA (160 x 128 pixels ) Colour TFT Display
MediaTek 6261D processor, 4MB RAM
Dual band, EGSM 900/1800
Dimensions 111.15 x 49.5 x 14.4 mm weight 70.2 g (including battery)
FM Radio
Native games
Flashlight
Micro USB for charging, 3.5 mm AV Connector
800mAh battery with up to 21 days standby and 15.7 hours talk time
Retail price is $23.