YouTube Red is google long rumored ads free subscription sevices. YouTube Red gives you everything on YouTube without ads, as well as variety of other content. But most importantly, YouTube Red gives you ad-free playback and the ability to save anything you want to a device for offline viewing.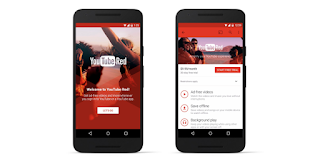 The subscription fee for YouTube red is $9.99 a month for Android users and $12.99 for iOS users.
In a nutshell, you enjoy the following with YouTube Red
==> Videos across all of YouTube without ads.
==>You can save videos to watch offline on your phone or tablet.
==> Ability to play videos in the background
==>Member-only access to new, original TV shows and movies from YouTube's biggest creators beggining from next year.
And lot more…
The question is, will you pay $9.99 (N1,998) or $12.99 (N2,598) monthly to watch Ads free YouTube videos?