Christmas is just few days away and lots of promos are already flying in the air … Leading digital Paytv Company Startimes has announced a 50% discount off subscription rates, in a bid to entice the existing subscribers across the country.
Subscribers who renew their subscription for two months on any bouquet will automatically get a 50% discount on their 2nd-month subscription.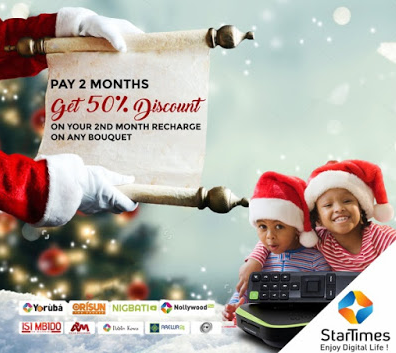 "The Christmas season often come with a lot of expenses hence our reason to make it a bit more bearable by offering 50% discount when you pay for 2 months"

''When subscribers pay for two months on any bouquet, between December 1, 2018 and January 31, 2019 they enjoy 50% discount on the second month plus instant gifts at any StarTimes business hall nationwide"
This offer will run from Dec 1st to January 31st 2019.
If you've gotten Jolly decoder from tstv kindly let us know.