The social media giant Facebook is introducing an amazing feature called Community Action. It let you file for petition and make Political demands.
Community Actions could unite neighbors to request change from their local and national elected officials and government agencies. But it could also provide vocal interest groups a bully pulpit from which to pressure politicians and bureaucrats with their fringe agendas.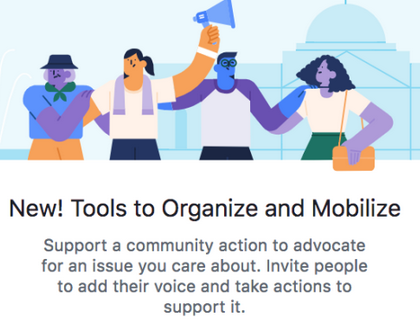 Community Actions embodies the central challenge facing Facebook.
With the new community Action features, users can add a title, description, and image to their Community Action, and tag relevant government agencies and officials who'll be notified.
The goal is to make the Community Action go viral and get people to hit the "Support" button. Community Actions have their own discussion feed where people can leave comments, create fundraisers, and organize Facebook Events or Call Your Rep campaigns. Facebook displays the numbers of supporters behind a Community Action, but you'll only be able to see the names of those you're friends with or that are Pages or public figures.
This is so similar to Change. Org but it won't replace change.org at the moment.
It will start rolling out to US beginning from tomorrow before other countries after weeks of testing.