Are you in need of a tablet but you don't have cash at hand to purchase it? Do you wish to pay in installments with access to free 12 months data subscription?
9mobile in partnership with Fidelity bank want to make all NYSC members service year colorful by offering them a stress free offer to own a Tablet of their own. You don't need to have the cash at hand before you have access to this Tablet offer.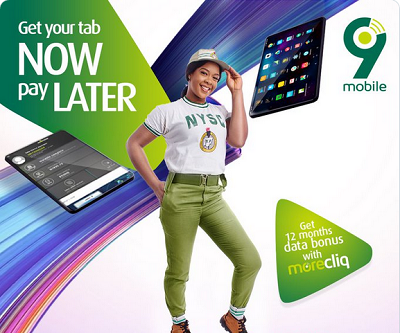 9mobile gives you the opportunity to stretch your payments over 10 months with free 2GB instant bonus on activation and 12 months free data on that device. Not just that but you also have access to capacity development contents.
Who is Qualify for This Offer
All NYSC Corp members are eligible for this offer. If you are not a Corp member, you do not need to apply for this offer.
How to Get The Offer
You can visit any 9mobile experience center near you to pick up your TAB. It is as simple as that.