Cloudflare has released its Free Mobile VPN WARP to the public after several months of delay. First announced in April and over 2 million people signed up for it.
WARP is a mobile app designed for everyone which uses "our global network" to secure all of your phone's Internet traffic.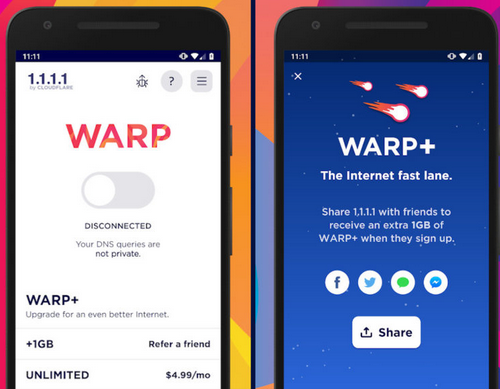 Cloudflare's goal for Warp is to make a mobile VPN that not only makes browsing more secure, but also faster. And, since it's a VPN for your phone, it should make any internet traffic from your phone more secure, too.
Warp comes with two service options — the basic Warp service and Warp Plus. The basic option is free without bandwidth caps or limitations, while Warp Plus offers an even faster experience for a $4.99 monthly subscription.
Where Can I Download it?
For Android users, download it here
For iOS users, download it here
Try out the free version of the app and it doesn't slow down my internet and I haven't notice any form of limitation yet just as what cloudflare said.
Let us know what you think.