***[UPDATED ]*** This post has been re-modified and I'm sure you'll find it useful. Airtel 20X bonus offer is not new and it's a package to lure back subscribers who abandoned their Airtel sim chip for long.
20X bonus offer give you extremely mouthwatering
bonuses
in which you can use the way you like. Not just this bonus but you automatically become eligible to get 1GB data for N200 package exclusive to few subscribers.
I'm pretty sure a lot of you have dumped your
Airtel
sim since the virus of
2GB for N200
infected your sim. If you are part of those who have dumped your Airtel sim for
a very long time, Airtel still love you and want you back.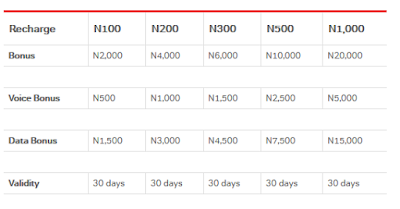 How Do I Get this Offer?
You can activate the Airtel 20X bonus offer by dialing the subscription menu or direct subscription codes seen below; Dial *241# and choose your options or;
N100 –> Dial *241*100#
N200 –> Dial *241*200#
N300 –> Dial *241*300#
N500 –> Dial *241*500#
What bonus will I enjoy on 20X offer?
Answer: 20 times bonus on your selected bundle.
How long will I enjoy this offer?
You can continue to enjoy the offer for 30 days.
Can I enjoy this offer multiple times?
Yes, you can purchase this offer multiple times within 30 days from the date of first purchase.
How long is my bundle valid for?
Your bundle is valid for 30 days only.
How can I check my balance?
Simply dial *123# to check your bundle balance.
If you are eligible for this offer you become automatically eligible for Airtel win-back data offer of 1GB for N200.
How to Get Airtel 1GB for N200
Dial *141*241# and choose your preferred option.
Let us know if you face any difficulty activating the 20x bonus offer on Airtel network.