Files by Google is a management app that helps you free up space on your smartphone, Find files faster, share files offline, and even back up your files to the cloud.
With Files, you can share anything – apps APKs, videos, documents. It works completely without the internet, so it does not cost any data. Just link up your phone with anyone nearby who has the Files app. Not just that but the sharing is secured with WPA2 encryption, so it's fast, safe and secure.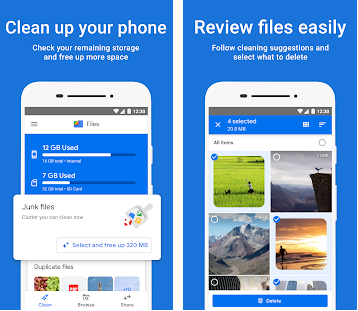 Major Features of Files by Google
1. Free up space – Clean junk files and cache, boost your mobile phone or tablet as you clean up the phone memory and optimize your smartphone performance.
2.  Find files fast – Browse your storage and find everything fast without being expert in file management.
3.  Share files – Send pictures, share videos, transfer large files or app apks. All of this with super fast speed with rate up to 480 Mbps over an encrypted direct wifi network.
Where Can I Download it?
You can download from Google play store here
Install it and watch your smartphone perform better than expected.