I know you are all set for Black Friday as its just 3 days to go; if you haven't' gotten your coupons for AliExpress, it is better you do that now. Some of you get this coupon but don't know how to apply it. But here is a simple guide on AliExpress Select Coupons.
Here is what you should know about AliExpress Select Coupon
A Select Coupon is a special type of coupon that helps you save even more on AliExpress. They are issued by AliExpress and can be used in any store that accepts them with certain restrictions.
You can accumulate as many select coupons as possible usable during Black Friday
How Do I Accumulate more Select Coupons?

Go to this page and click on "Get Now", the more you click on get now, the more select coupons you'll get usable during AliExpress Black Friday deals.

How Do I Check My Select Coupons?
1. Go to My Account (My AliExpress on PC) and select My Wallet (My Coupons on PC).
2. Click on My Select Coupons and you will be able to view all the Select Coupons you won. These coupons will be applied automatically when you place an order
How Do I Use Select Coupons?
STEP 1: Find items on which you can use Select Coupons.
If you select items from multiple stores, make sure to check that the stores have the same minimum spending requirement before applying the coupons
STEP 2: Add the item(s) to your cart and continue shopping
STEP 3: When you're ready to pay, the discount will be automatically applied to your order… It's like magic
Note that Select Coupons can be combined with other discounts and coupons on AliExpress.
For instance, Xiaomi Redmi Note 8 here can be gotten for just $114 (N41,000) when you apply AliExpress Promo code: "Friday 10", Select coupons and store coupons.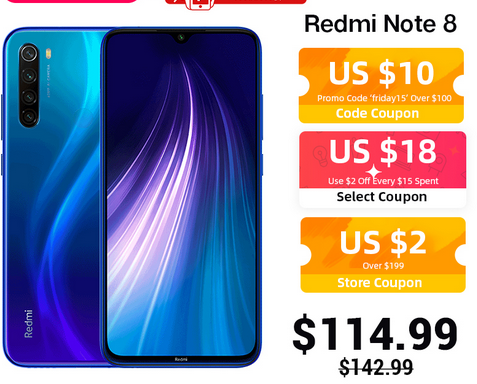 The more select coupons you have the cheaper the item you intend to get during black Friday. Check out more Black Friday deals you can buy here.