Internet subscribers took a different turn, as Telcos competition tightens… Nigerians decides which network is best for them.
According to the latest reports from NCC, MTN edged out Airtel for the first time in 5 months, gaining a total of 488,120 internet subscribers in the month under review.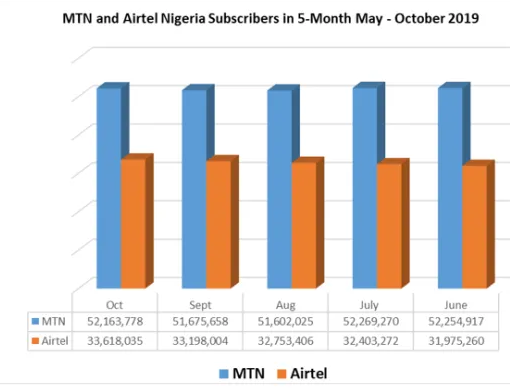 Globacom continues to lose internet subscribers as more people dumped the network for the second month in a row. The GSM Company lost about 370,845 internet subscribers
1. Despite the rise in MTN's number of internet subscribers, it still pales in comparison to the over 2.4 million internet subscribers added in May 2019. MTN now has 52,163,778 subscribers.
2. Airtel, which had led the way in recent months in terms of gainers, recorded a slight drop. In October, it gained 420,031 internet subscribers, compared to 444,598 gained in the previous month. Airtel Nigeria continues to witness additional internet subscribers on a month-on-month basis.
3. In total, active internet subscribers by GSM stood at 123,206,103 compared to 122,792,291. This represents an increase of 413,812 subscribers only.
4. Internet subscribers on GSM networks have now increased by 11,573,587 since December 31, 2018, representing a growth of just 5.6%. The number of internet subscribers was 73, 122,552 5 years ago in October 2014.
Subscribers Dump Glo and 9mobile Data Subscription
On the other hand, Globacom continues to lose internet subscribers probably because of their slow network in most locations. 370,845 internet subscribers dump the network, an increase from the 155,118 internet subscribers lost in September. The company has lost a cumulative 525,963 internet subscribers in just 2 months.
9mobile lost 122,711 internet subscribers in October, as against 156,065 recorded in September. 9mobile internet subscribers have continued to decline on steady bases and subscribers are complaining of how expensive 9mobile data his
Just recently the network launched a revamped data plan which is disguised is to woo runaway customers back to the network, but subscribers are still complaining…
Subscriber's complaints that Airtel Data is fast, but it depletes fast, the same thing applies to MTN. However, Glo data is cheap but could take an eternity to load a page.
Telcos Total Market Share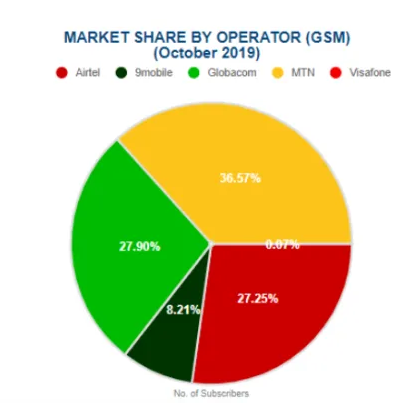 At the end of October 2019, MTN's total market share was 65.87 million subscribers,
Airtel rose to 49.08 million subscribers
Globacom is 50.25million, while 9mobile continues its free fall with 14.7 million subscribers left.