If you don't have a
PayPal account
or you don't even know
what
PayPal
means then you belong to the categories of people who are in the University
of JJC.
With PayPal, you can do a lot of things send and receive
money at your convenience. The good news is, you can now send and receive money
on PayPal through BBM. Which I think is the best with ease.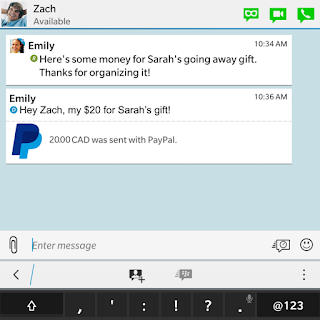 According to what PayPal announced on their site
here
"We
are delighted to announce that we are teaming up with BBM to bring peer-to-peer
(P2P) payments where the conversation is already happening – in your BBM Chats."
How Does it Work?
==>Select the PayPal
"Send Money"
icon in
BBM
and connect
your PayPal account. You can start sending money to family and friends once
they've also connected their PayPal accounts to BBM. From there, you'll simply
select the PayPal icon directly in BBM, enter in the amount of money, review
the details, and hit send – that's all it takes!
Note:
You do not need to have the PayPal app on your device to send
money as the transfer happens through BBM.
This PayPal feature on BBM beta roll out started today in
Canada, and other countries should expect to reach them in the coming weeks. It works on iOS, Android and Blackberry devices.