Most of you are familiar with speedtest.net because you normally use it to test how fast your internet is from different ISP. But the company behind it Ookla wants to offer you free VPN services.
The speed test free VPN hide your online identity, points towards zero logs policy, and assigns shareable IP addresses from a pool of over 40,000 addresses to anonymize the user's identity.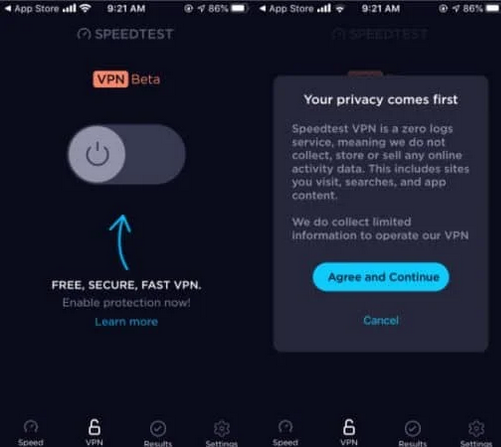 Ookla has partnered with the Seattle-based company NetProtect to provide the VPN service, which already manages the infrastructure for leading providers, including IPVanish, Encrypt.me, etc.
It is currently available on Android and iOS devices, PC users will have to wait a little longer before it rolled out to them.
Where Can I Download it?
You can download the speedtest app here for Android
And iOS users can download it here
How to Use the Speedtest VPN Services
>>Open the speed test app
>>You find the VPN option (with padlock icon) at the bottom of the Speedtest app. Tap on the toggle button and follow the steps to create the Speedtest VPN profile on your device.
>>Finally, the Speedtest VPN is free, but it only gives you 2GB of bandwidth to consume every month. Also, if you perform an internet speed test while connected to the VPN, it'll count towards your data cap.
The speedtest VPN is still in beta at the moment, once it's out of beta, the paid version will be offered.
Let us know what you think about the free VPN app on your smartphone in the comment.