YouTube Premium formerly called YouTube Red that allows you to watch YouTube videos and premium videos without ads are now available in 80 countries including Nigeria.
YouTube premium subscriptions are available in Family Plans in Nigeria and Turks and Caicos Islands, but not in Venezuela.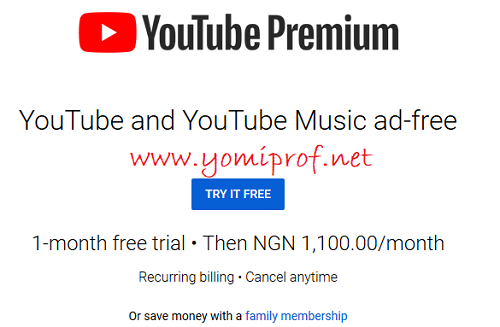 Just like Google said, YouTube premium offers you ad-free playback, video downloads, and background playback.
Exclusive Benefits of Using YouTube Premium
>>Videos across all of YouTube without ads.
>>You can save videos to watch offline on your phone or tablet.
>>Ability to play videos in the background
>>Member-only access to new, original TV shows and movies from YouTube's biggest creators
You also enjoy YouTube Music for free and Google will give you 1 month free trial before your subscription begins. You can opt out at any time and your account will be reverted back to free YouTube account.
Go to www.youtube.com/premium to begin your premium journey