The best way to beat your biggest competitor is to straight-up copy them.   That may go against everything they teach you in business school, but that's the lesson we can draw from the past two years Instagram's spent relentlessly copying Snapchat.
Now Google YouTube has joined the league, announce YouTube stories to all eligible creators with10K+ subscribers.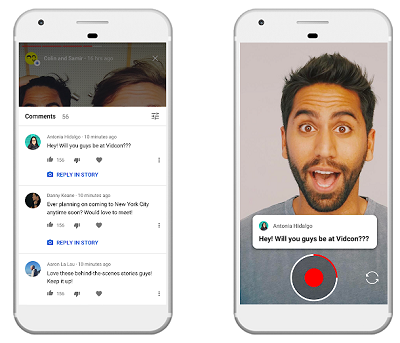 With YouTube stories, you can add text, music, filters, YouTube stickers, and more to make your story uniquely you.
How to Create YouTube Story
To create a story, just open the YouTube mobile app, tap on the video camera icon, and select "Create Story."
Comments have also been added to stories – so the entire community can be a part of the conversation. Subscribers can comment, thumbs up and thumbs down comments, and you can heart comments.
And all of the comment moderation tools that are available on video uploads will also be available on Stories. You can now also respond directly to a fan comment with a photo or video for the entire community to see!
Stories are available in the mobile app for 7 days once live and all your fans will see it within that 7 days.
If you can't beat them, you should copy them!