If you are a constant user of instagram, then you'll realize that not enough people care about IGTV that was launched last year.
I don't open it, no time to check useless videos without adding values; Instagram has realized it and now they want to make it mandatory on your timeline starting from Thursday, February 14 2019, users will now see IGTV videos from the people they follow appear directly on their main timeline.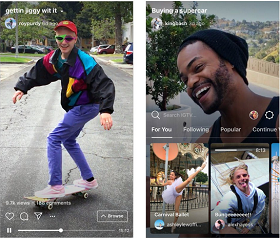 These will appear as regular posts but will have a tag to differentiate them. You'll only see videos from the people you follow and not random celebrities the way you currently do elsewhere in the app.
Instagram's previous attempts to highlight IGTV have included IGTV in Explore, sharing IGTV videos to Stories, saving IGTV videos and allowing for IGTV web embeds. Unfortunately, no one was clicking on it which makes the purpose defeated.
Now that Instagram want to make it mandatory for users to watch IGTV, I feel no one will still click it. Maybe they should just scrap it completely and let everyone rest.