If you've not been using Opera mini browser for a while, you might want to revisit it because a lot of updates have been rolled out since you left.
Opera Mini 50 has been rolled out to millions of Android users and opera lovers… In the major upgrade, the popular browser has fully revamped its user interface to allow its users a more personal and intuitive way to interact with the browser features they love the most.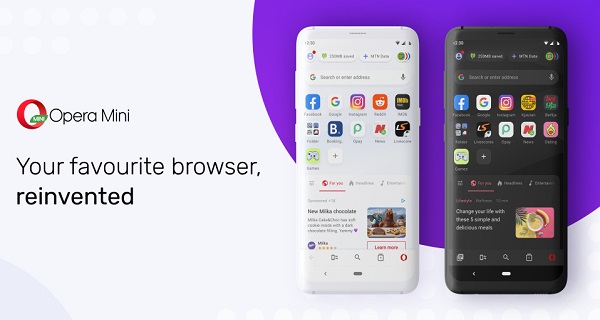 Opera Mini 50 is a small, fast, and powerful browser. It comes with unique features such as the data compression technology, a download manager with offline file-sharing capabilities, and a built-in ad-blocker.
The biggest change in the new update is made to the status bar at the top, which has been redesigned with new functionalities. It will show a variety of information like welcome messages while browsing, greetings, hints, notifications with the latest news, coming updates in the browser, or events from partners.
Along with this, the new status bar will display a Data Savings widget that shows users their data consumption at a glance. Opera claims to have the best data-saving browser on the market, with nearly 81% of mobile data on average when an extreme mode is turned on.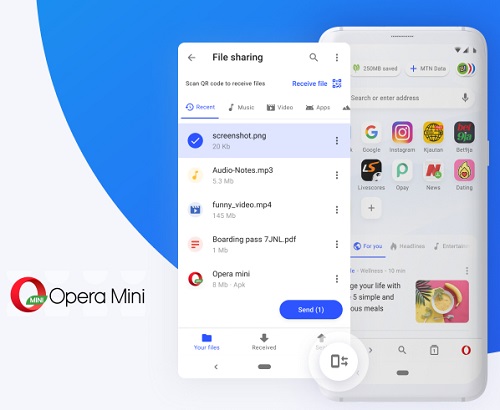 Offline File Sharing is a pretty useful feature in the Opera Mini browser that was added recently. Now, Opera Mini 50 includes a shortcut for offline file sharing on the new navigation bar at the bottom of the browser screen. From here, users can quickly share images, videos, and audio files with nearby devices at super high speeds over Wi-Fi.
Since the beginning of 2020, Opera has partnered with MTN and Airtel in Nigeria to bring free browsing up to 50MB to its users and those using MTN and Airtel networks.
Where Can I Download The Update?
You can download the latest update from Google play store here
Let us know the browser you are currently using on your smartphone in the comment.