Apple has just unveiled the
iPhone
7 and it proved to be a
sensational and controversial update, and among the announcements that were
made was the official release date of iOS 10, the newest version of the
operating system for iOS devices.
Tomorrow 13th September 2016, a new operating
system called iOS 10 will be seeded to your iPhones and iPad across the world
offering apple fans access to new features.
Eligible iOS devices,
iOS 10 will be available as a free software update for
iPhone 5 and later, all iPad Air and iPad Pro models, iPad 4th generation, iPad
mini 2 and later, and iPod touch 6th generation.
Unfortunately, iPhone 4s won't be getting iOS 10 updates.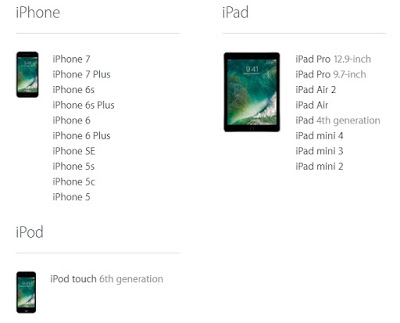 Note: If you have been enrolled in Apple's beta
program and have been rocking iOS 10 beta for the past few months, the golden
master of iOS 10 should already be rolling to your device.
Also have in mind that certain new iOS 10 features will only
be available on select newer devices. For example, Raise to wake requires and
iPhone SE, iPhone 6s, or later – the iPhone 5, 5c, as well as iPhone 6 and 6
Plus are not compliant with that feature.