I know today is Sunday and you may have been looking for a simple data plan that you can easily use to stream your online services, or just music or something more different.
Glo introduced a Sunday data plan and I'm sure some of you are still not aware of it. This data plan is only on Sundays… it gives you 1.25GB for N200. It works exactly like every other data plans but the only drawback is the Sunday limitation.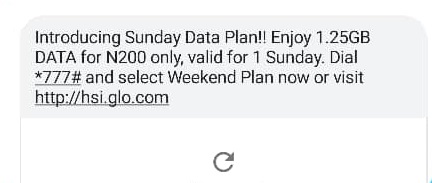 How Do I Subscribe to Glo 1.25GB for N200
Dial *777#, and choose Night and weekend plans, scroll down to the plan of your choice, and subscribe.
The validity of this plan is 1 day, which is Sundays only.
Dial *127*0# to check your data balance or go to his.glo.com
And if you think the above data plan may not be enough, you can consider other options unveiled not too long ago, Glo 1GB for N100 usable at night and the validity is 5 days; and 7GB for N1500 and the validity is 7 days.
Any of the above data plans will help you enjoy your streaming uninterruptedly aside from the night plan.