The popular chat messenger WhatsApp is adding end-to-end encryption to your cloud backups on both Android and iOS.
Unencrypted backups was one of its privacy flaws as cloud backups provided by Google Drive and Apple's iCloud could be accessed by authorities if they get warrants and these tech giants could hand over access to your data.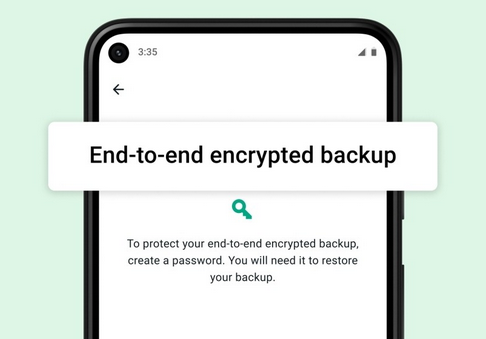 But things are changing; you can turn on end-to-end encryption for your backups. The way WhatsApp owner Facebook describes this in its announcement, it seems like it won't be on by default but you'll have to actively choose to enable it.
Here is Everything You Need to Know about Encrypted Backups
Encrypting your backups means that neither WhatsApp or Google or Apple will be able to read your backups.
You won't be able to restore your backup if you forget your encryption key or password
If you lose your WhatsApp chats, WhatsApp can't reset your password or restore your backup for you.
You can turn off encrypted backups by clicking on Chats > Chat Backup > End-to-end Encrypted Backup and then tap Turn Off.
How to Enable WhatsApp Encrypted Backups
Get the latest WhatsApp update via your respective app store.
Go to Settings
Click on Chats > Chat Bacup > End-to-end Encrypted Backup
Tap Continue. You'll see prompts to set up a password or a 64-digit encryption key.
Click Done.
The new feature allowing for end-to-end encryption of backups will be rolling out slowly to those with the latest version of WhatsApp for Android or iOS.