WeChat
is a new mobile chat application currently gaining
ground in the emerging world of chatting platform. It allow you to interact
with your friends, colleague as well as meeting new friends closer to your
locations.
WeChat
also allow you to send video messages, audio calling and
group chatting.
Konga.com
is an e-commerce website which allow you to do shopping
for anything online and pay online. I was just wondering why Konga will have to
do this but believe you me, it is a new way to connect with everyone; they gave
me #1,000 vouchers to Shop online.
How Can I Get #1,000 Vouchers To Do Shopping Online From Konga?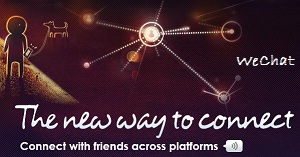 already)
2.
Search and follow
ShopKonga on
WeChat
4.
Send the signup
email to Konga via WeChat
Once all the above is done, they will
credit your account within 24hrs with #1,000 vouchers to chop online.
WeChat is Compatible With:
Nokia S40 and S60, Blackberry, Window Phones, and Android Phones. Iphone users should back-off.
You can equally find me with the User Id Yomiprof on weChat
lets connect.