One of the major problems
a lot seems to face on our devices is the lack of memory. Android uses two
types of memory, the memory of the smartphone or tablet and an external memory,
the SD card. There are times you just get this message pop up on your
smartphone "you are running out of memory space", which is very much embarrassing
to a typical android user.
By default, all
applications that we download are installed in the internal memory, and sooner
or later we will have a problem of storage. In that case, we have several
options for reorganizing the information downloaded on our Android devices, but
it is more practical to just move some apps from the internal memory to the SD
card.
How Can I Move My
Apps To SD Card?
Some applications
can't move as they require to be in the internal memory to run. However, many
others can be moved smoothly. This can be done in two ways, either with the
options Android gives us or with the help of some external app.
However, there are some
default stubborn apps that will refuse to move but relax the solution is right
in front of you.
==>
App2SD
: One
thing you'll love about this app is for the fact that it shows the total
capacity of your SD card and Phone memory; not only that, but tells you which
app you can be move and which can't be move. You can just download it
here
or
from play store, run and install it, and every other things is pretty easier to
follow.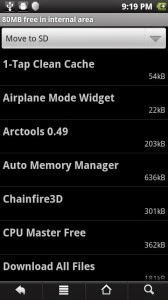 ==>
Force2SD
: to
all the apps pretending to be sturborn, perhaps all the default apps, this
application will simply deal with them as it will move them all to your SD
card. Just make sure you have upto 8 -16GB free space on your SD card if you
totally want to free your memory space. You can download the free version
here
or play store. If you want to get the
paid version
for free, just visit
here
to
learn how to.