Thank God it's weekend and I'm not really going to write
much today… but as many people that are agitating to have a blog of their own
but don't know how to go about it, you can holla at me let me help you out but will charge you a token. You never can tell what will announce you to your world, until
you start blogging.
Back to business, recently, I made a post on
Telegram Messenger
one of
the best fastest growing Messaging app soon to replace
whatsapp
if they don't wise
up. But some people find it difficult to use on their device. However, I have
made an alternative download link for Java/Symbian users and Blackberry Os7
users. Os 10 will find the app in AppWorld.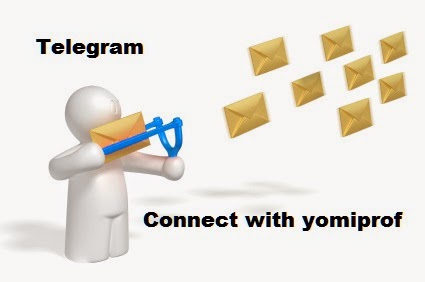 For Java and Symbian Users
, download from this link
here
And for Blackberry users,
Since Telegram is an open source Messenger, some developers
has converted the apk file to bar file so download the bar file below
Or
Use Telegram online via blackberry browser through the
following procedures
==>On the screen click "Start
messaging".
==>They will ask to enter your
phone number. Enter your number with country code.
==>Click next and they will
send a code to your phone
==>They will check the code
and open up the app on your browser. You can then Start chatting.
Once you've fully done that, you
can drop your number through the comment box let me add you up on Telegram
messenger.