What makes
WhatsApp Plus
interesting and
sweet is for the fact that it gives you room to customize it the way you want. Tweak
it, move it and prove to official whatsapp that you own your device.
If you've been ban before, come in let
me cook your liver because this version has ban-proof defender.
Note: There is nothing like permanent ban from whatsapp… a developer formulated the post on Google+ here Just to put  fear in your heart. Even whatsapp official confirm this saying "If a user doesn't uninstall WhatsApp+ then they will continue to be
banned until they stop using it. But there is no permanent ban," a
WhatsApp spokesperson confirms." There is nothing like permanent ban. So if you are still in love this WhatsApp Plus, read on or close the page

WhatsApp Plus
is updating its app very quickly and within
the period of weeks the new update is available to users. Today, just few hours
ago, the update of WhatsApp Plus v6.76 & Reborn v4.04 launched and it is
available to download and install in your android smartphones.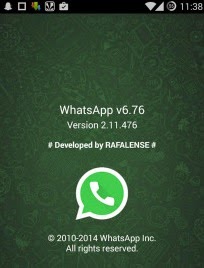 Key Features of WhatsApp Plus
==>COLORFUL :
Basically it is a customizable WhatsApp where you can change lots of colors,
sizes, and many other things.
==>EXTRA UPLOAD LIMIT : In
addition you can increase upload media limit (stock limit is 16Mb) to send
large music files or videos.
==>SEND ORIGINAL PIC :
You can increase quality of pictures sent (by default resolution is decreased
quite a lot)
==>AD FREE :
No adds as per original WhatsApp
==>QUICK SHARE :
You can share music just with one click.
==>PARTIAL COPY/PASTE
: You can select the part you want to copy from text rather copying whole
text and send it to people in your contact.
==>WATCH STATUS :
You can directly watch status in the chat screen from WhatsApp Plus V6.76
==>HIDE PROFILE PICTURE :
You can hide contact profile pictures and show phonebook pictures (in chat
screen).
==>LOAD OF THEMES :
Built-in theme viewer and downloader. Check WhatsApp+ users themes online and
apply theme if you like.
Where Can I Download it?
How to Install ?
1.       First
Download
WhatsApp
plus
v6.76
or Reborn v4.04 APK file and save it in your PC or
Phone.
2.       Take
the Backup of your chats and broadcast lists.
3.       Delete
or Uninstall the WhatsApp which is already available in your Device.
4.       Open
the APK file and install the same in your Android smartphone.
5.       Now
follow the screen instruction. Accept the installation with the "Accept"
button.
6.       Congratulation,
now you successfully installed the WhatsApp PLUS v6.76 or Reborn v4.04 in your
device.
7.       Now
Restore the Backup to get all chats and broadcast list back.
  Enjoy
WhatsApp Plus & Reborn.