Do people still make free night
calls? Then those night crawlers will love this perhaps the student among us will
value this one so much.
Mtn
just introduce another unique
freebies for all night crawlers. And according to their message, it is
unlimited. Yes you heard it right, It is unlimited freebies; meaning you can
download any how you want without objection.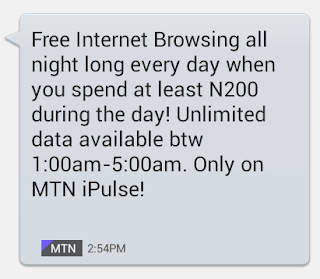 Their message reads "Free internet
browsing all night long every day when you spend at least N200 during the day!
Unlimited data available btw 1am – 5am. Only on MTN iPulse"
How to Migrate to IPulse?
==>Dial *406# and you'll be
migrated to iPulse
==>Then, during the day, use upto
N200 and enjoy all night unlimited download between the hour of 1am – 5am.
They say this is only men't for
iPulse users, but I want to believe it should walk with
MTN
Biz plan cos I do
make free calls at times during the day on that plan and all night (even with
N0.0)
It is easy and Simple for those who
are interested.