BBM
is finally looking like an android app with their latest
updates… if there is anything I love about it now, is the cool material design,
it makes it looks more mature than the former. With this, those of you who are
still using OGBBM might want to do away with it.
BBM has a new material design layout. With that, BBM now features a
slide-out navigation drawer, a floating action button, and a flatter
look all around. Perhaps not the biggest part of the new Android app,
but it's good to see BlackBerry following the cues from Google's design
guidelines.
The latest version of BBM version 2.9.0.44 doesn't only
comes with extensive material design but also comes with an additional feature
called private chat. I'm sure you are really going to love this new version of BBM.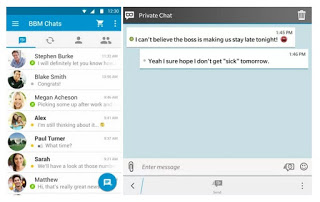 Where Can I Download It?
Do you use BBM? If so, what do you think of the update?