Everybody spend hours watching videos
on
YouTube
, some wish to download but don't really know how to go about it; and
it can be so frustrating streaming directly online if the network is so slow…
The truth is, in one way or the other when streaming
YouTube videos
you'll
encounter an enemy call
"buffering"
.
I'm going to show you the simplest
method of downloading YouTube videos with the word MAGIC on any device. Magic is a word, but
when applied it becomes magical.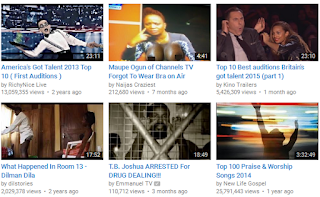 How Can I Download YouTube Videos With
The Word Magic?
You don't need any app to do this at
all, just locate your favorite mind blowing videos and apply the word magic as
seen below
To download, apply magic in-between
like this https://www.youmagictube.com/watch?v=csrnekw7Avk
… and your download will begin.
It works on all device that has been empowered to surf the
internet.
…Let the magic begin!
Related Posts