So this the app in Microsoft that is turning the internet
upside down. But this app is only restricted to Window device.
The beta version of the Cortana app has been released and I feel Microsoft
just sold their soul for cheap exchange for fame.

This are what you can do with Microsoft Cortana app
==>Place a call, get a direction just by talking. The app seems to
recognize words with high accuracy. Take for instance, you do a search on a the
nearest restaurant, you can then ask it for a map by saying things like "show
me a map of…"
==>It has a few Gooogle now features with weather, news etc.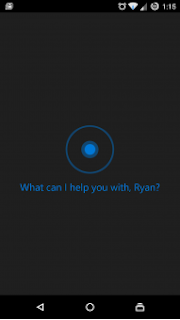 The real selling point of this app are the voice features.
This is still a beta app, and it's not even an official release. The version
that Microsoft eventually puts in the Play Store might be a little different,
but there's nothing obviously broken in this version.
You can download it here.