iOS platform doesn't allow you play
some certain kind of
movie
by default, its set to play only friendly formats
like
MP4
,
MOV
or
M4V
; which leaves the avi format to conversion. If you are
using iOS devices for the very first time, you'll definitely find it
frustrating to even upload avi videos to your iPad/iPhone device except you
first convert it.
I'm going to show you simple ways
you can watch all types of movie format on your iOS devices without any form of
conversion to MP4.
How Can I Watch Any Kind of Movie
Format on my iOS Device (Using iTunes Upload)
There are many handful video players
but I'm just going to center on Oplayer and VLC… both video player works just
fine. You can download Oplayer
here
or VLC player
here
Step 1: Connect the iPad to your computer
via its USB cable.
Step 2: Launch iTunes, then select your iPad
under "Devices" on the left side of the window.
Step 3: Click the "Apps" tab, then
navigate to the "File Sharing" section by scrolling to the bottom of
the window.
Step 4: Click "VLC or OPLAYER" in
the "Apps" section on the left side of the page. The list of current
media files for the VLC/OPLAYER 
automatically appears on the right side of the page under
"Documents."
Step 5: Click the "Add" button at
the bottom of the "VLC Documents" or PLAYER box. Then "Choose a
File" window opens.
Step 6
Navigate to the video you want to
add to VLC or OPLAYER, then click the "Choose" button. The video is
automatically added to the VLC player on your iPad. Click the "Add"
button again to add more videos.
Alternatively, Using Wireless Upload
You can transfer video over Wi-Fi
via OPLAYER or VLC
==> Open VLC app on the iPhone,
iPad, or iPod touch and tap on "Done" to skip the intro (or flip through it and
learn a bit more about VLC if you want) 
==>Tap on the Cone icon in the
upper corner
==>Look for the "WiFi Upload"
switch and toggle it to the ON position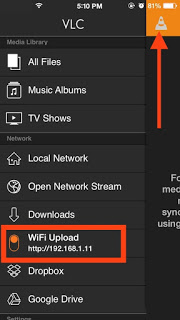 ==>Make note of the IP address
that is listed (in this example, http://192.168.1.11)
==>From any computer (Mac OS X,
Windows, Linux, etc) open any web browser 
==>Enter the IP address into the
URL bar of the web browser exactly as provided from VLC (example:
http://192.168.1.11), this loads the VLC upload client running in iOS into a
web browser 
==>Drag and drop movie file(s)
you want to copy to the iPhone, iPad, or iPod touch into this window, or click
the + button to select them in the file system manually
==> Let the upload process
complete the file transfer from the computer to iOS
Now that you've copied a movie or
video file over, you can watch it from the iPhone / iPad!