This is the question that everybody kept asking and up till now, we keep hearing story that touch… I know quite well that a lots of people have waited for this Black Friday to come, but obviously many people are disappointed
.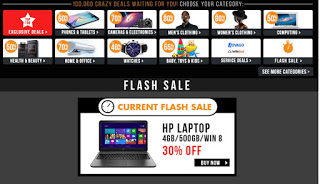 Starting from 12am this morning, a lots complained that Jumia site didn't open, while others said that Jumia price on infinix hot2 didn't change. An anonymous commenter anonymously commented that "Hehehehehehh n9a no go stop to amaze person. 12am Jumia site went off, after sometime, I saw everything sold. Abet na witches and wizards buy d fone  dem"
I sat down and thought for a moment, then I checked Konga only to discover that some of the item didn't change in price. Like the infinix hot2 still goes for the same price; snooker rocket still goes for the same price. The only thing that change majorly are prices for fashion wears.
Gearbest tried giving 20 people half the price of xiaomi red I note 2 and some other items. I don't want to draw conclusions yet but let me throw the question back to you, how was your Black Friday experience? Sweet or sour?
Note that over 6million people are trying to get just 1 flash sale on Jumia and that was part of the reason why their site went down at a point. Is this nice? out 64million Nigerians trying to shop on Jumia this Black Friday, is it a crime if Jumia give 30 people coupon code for flash sale?