I make up this post because I know some of us are new to
what I'm about to share and some are already into it. Those who have almost
succeeded in registering for
PayPal account
but are finding it difficult to
link their Master Card will really appreciate this post to the fullest.
Ideally your local bank gives you Debit Master Card or verve
card on opening an account with any of the Bank. PayPal only allow Valid Credit
card and not Debit Card. Some of you must have tried GTB Debit Master Card and
you get an error or even Zenith Debit card; but don't too worry, solution will
be proffered right away.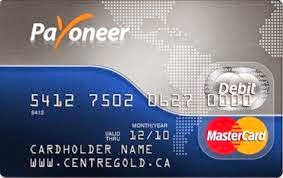 You can easily walk straight to your local Bank and make a request
of Credit Master or Visa card from your bank and it will be processed for you.
Though there is another super unique card I'll really want to share with us,
everybody should have this if you want to successfully operate your PayPal
account in Nigeria; it's called Payoneer.
Payoneer
is a universal credit card for paying and buying
online.
Payoneer
is free of charge for anyone who wants it. You can use this
card to withdraw your PayPal fund via ATM; and pay for any kind of goods
online. It is better and faster than any card your local bank gives to you.
The good news is that it is free and you don't need to pay a
dime for it to be delivered to your doorstep.
How Long Does It Take To Be Processed?
It takes only 3weeks before it will be delivered to your
house address.
What is Their Requirement?
==>A valid scanned copy of your ID card like international
passport/Drivers license/National ID card or even you voter's ID card.
==>Scanned copy of your clear passport and you are done.
Who Needs This Payooner Master Card?
Everyone needs this
Payooner Master Card
with or without
PayPal account
; because some day,
you'll want to buy something from Abroad while you are at home. It's actually
time you go global.
Where Can I Sign up?
Sign up with them
here
and have your card delivered to your
door step without paying a dime. Ask me your questions!