This tutorial is specifically men't for N3 and P3 users who
have anticipated for custom ROM for a very long time. Well just fasten your
seat belt as I engage you in a few minutes tutorial on how to upgrade your
custom rom to 4.0 ICS. With this newer updates on you device, you will be able
atleast to use BBM.
Below are some of the features your N3/P3 will look like
once you've successfully upgraded it.
==>Full ics interface
==>Transparent notification
menu
==>Good lock screen
==>ICS camera
==>Full Odex ROM
==>RAM Manager,Less
Lags,better Multitasking
==>Automatic Zipalign (Zipalign
xbin is included)
==>TCP and 3G Tweaks For
Better Network
==>Better Battery Life through
Battery Tweaks
And lot more. No more stories
lets' just dive into the main thing.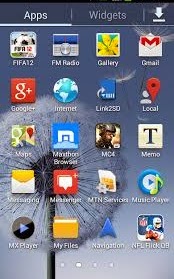 Requirement:
1. It is always adviceable you back up your present ROM before flashing it with a custom ROM
2. Before we begin, you need a CWM
recovery for your N3/P3 download it and do as well read more
about it here
How To Install Custom Rom For
N3 & P3
2.
place it on
your sdcard root
3.
Boot to
recovery >>wipe data factory reset and wipe cache partition
4.
Goto Advance
"wipe dalvik cache"
5.
Select +++go
back+++ àThen, select 'install zip from sd card'. Choose
zip from sd card
6.
Select
Eblak_N7.zip then Navigate to "YES". As soon as you see
"installation complete", select choose zip from sd card
7.
And choose
su-bin-3.1.1-arm-signed.zip. When you are through, select "+++go back+++" and
choose "power off". You can then restart your device.
For P3 Users alone (Patch Installing)
==>Download P3_Patch here
==>Save the downloaded file on
your sd card
==>Go to clockworkmod and
install the zip. Their is no need to wipe anything, just install the zip from clockworkmod.
That's it guys. You should now have a branded ics custom rom running 4.0 installed on your device.