It's high time I bring out the
business
nature in you.
Hence, I'll be showing you how to make more money doing just this. If you are a
student, business tycoon or otherwise; this tutorial is men't to add extra cash
into your pocket. Before I begin, good information at your disposal gives you
an edge slightly above your colleague; therefore making you the boss. This is
going to be more like an investment class and I know so many people will be in
a hurry not to read it. Money hurries away from those who waste it, to those who
invest it.
I'll quickly show you how to start
importing memory cards
at the cheapest rate and sell it for normal
rate. Like it or not, 99% of people use phone that support memory
cards. And people buy memory cards daily at a particular cost. Can you imagine 8Gb memory card being sold for
4K in Nigeria and at Amazon your can get it for $4.79 which is equivalents to
almost #800; can you now see the profit margin? Good!
First of all, lets visit
www.alibaba.com
and type in the search box the keyword 'memory
card' and watch the list of items that will be displayed. Look at the screen
short below;
Can you see a 2GB memory card going for US
$1.06? Okay convert it to your currency and see how
much that is. Mind you, there are range of options and prices differ depending
on the suppliers.
Secondly, lets visit
www.amazon.com
and type the keyword in the search box 'memory cards', list of options
will come out as seen below;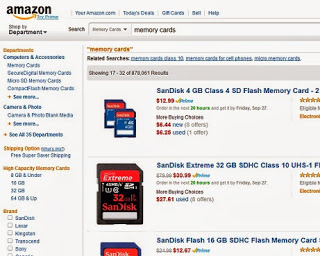 But there is something more that caught my
attention, the screenshot below displays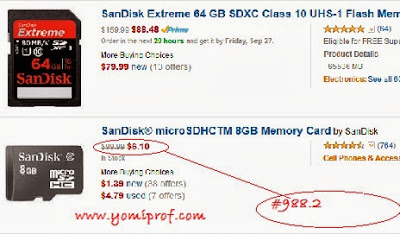 Did you just see 8GB memory card going for
$6.10 i.e #988.2? This is not even upto a thousand buck; but this same capacity
is been sold for 4k in most places. There are lists of options at even more
cheaper price, all you need do is to take your time and search them out.
You can equally check
www.dhgate.com
for even more cheaper memory
cards that can easily be shipped to your house address via DHL.
A lot of questions I know will be hovering
your mind now I guess…
How Can I Buy From Amazon?
I will expatiate more on this later but
do the following;
1.Sign up for an
Amazon shopper's account
2. Get a Master/ Visa Credit card to make payment online (I use Eco bank Visa to make payments online)
3. Good internet connection
4. Get a
US shipping address
5. Make purchase and ship to your personalize US address
6. Re-ship from your US address to your Nigeria Address.
Let me stop here for today and continue some other day. Got some
mind bugging questions? Ask!