Innjoo fire users will definitely love this if you are such
that like to utilize the tweaking potentials of your InnJoo Fire. It has superb
features like Marshmallow plat logo with game, Android version 6.0 in build
prop, Android M boot animation and lots more.
All Credit goes to
AndroidVillaz
and the Rom creator RAJ
SHEHKAR.
Note – Flashing this rom on your device is at your own risk. If you can't take the risk, don't install the rom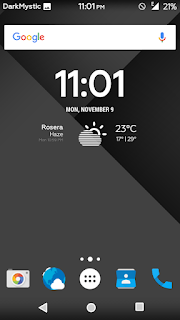 Mystic OS v6 Rom Features
Material themed
Marshmallow platlogo with game
Android version 6.0 in build prop
Android M boot animation
Android M sound
MysticOS boot logo
Pre rooted & busybox installed
Added ABS tweak
Framework themed
L lockscreen
Android L inspired recent
Lollipop Status bar icons
Android L notification panel
Dialer themed like lollipop
All other apps themed
Cm12.1 app icons
Nova material launcher
CM 12 launcher
Cm12.1 Music player and AudioFX
4 Ways reboot option
Screen record in power menu
Expandable volume panel
Delete button after taking ss
Clear all recent
Floating buttons in Calendar and mms
Logo in About MysticOS , About phone & Mystic settings
Partition info
Changelogs in About MysticOS
Smart gestures
ListView Animations
Toast Animations
Media Scanner on boot
Custom progress bar
Scrolling animation
CLock widget
Gesture Anywhere
Battery styles
Battery bar
3 network traffic
Clock & date option
Dynamic system bars
Carrier label in status bar
Low battery warning options
Navigation bar options
Enabled app ops
Multi user options
Auto starts , phone settings and screen recorder
Ad blocker
Time in state
Performance control
Build prop modder
Engineer mode, font chooser, etc..
Before you begin,
==>Make sure you are rooted or see rooting guide
here
==>You must have custom recovery installed on your device or
download
here
(Flash it with mobile uncle)
==>Make full back up of your device before flashing in
order to avoid stories that touch
==>Patience in following.
How to Install The Rom on Your InnJoo Fire Device
==>Move the downloaded Mystic OS v6 files to the external
storage (sdcard) of your device.
==>switch
off your device and boot to recovery mode (press and hold Volume Down button
+ press Power button).
==>Once
you get to the recovery mode, simply perform a full system wipe (Wipe
Data/Factory Reset, Wipe Cache Partition and then Wipe Dalvik Cache/ART cache
from advanced section).
==>go to the recovery main menu, then
select install , then select the
Mystic Os V6.Zip file and install immediately.
Once the installation process is completed, simply go back
to main recovery menu and tap on Reboot system, and your device would be
rebooted.

That's it, your device will reboot successfully and you should begin
experiencing a new touch of a new dawn on your InnJoo fire.
Download Bug Fix
Download
Flash the Fix Via Recovery without wiping any thing… You are done. Have any questions related to this? Use the comment box.