We are all waiting but here is a
public announcement from TStv Africa.
Telcomm Satellite TV (TStv) says its
newly inaugurated pay TV, TStv Africa, will begin commercial operation on
November 1.
According to the
M.D,
TStv
would launch its services with about one million
decoders nationwide and at least 5,000 decoders TStv would be released to the
public next week for free, adding that it would use the first set of decoders
with one month free subscription to test run its services.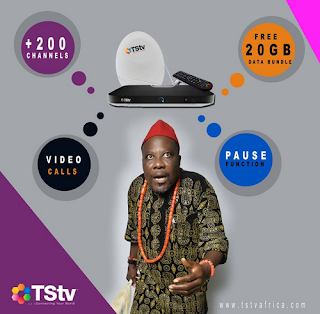 "Commercialisation of our decoders will resume officially on
November 1 and by that time, every part of Nigeria would have TStv decoders for
people to buy.
"We are releasing about one million which can go round and
our target for the first quarter is one million units.
"In every quarter we will bring one million units and we are
targeting four million units within the next one year.
"I can tell you categorically that some decoders will be
released next week for Nigerians to test and we are going to cover the 36
states of the federation.
"These decoders are going to be free and it close to 5,000
units to test and that will last for two weeks," he said.
Why The Delay?
Echefu disclosed that the delay in
releasing the decoders to the public was to ensure that dealers were properly
scrutinised so that the decoders do not fall into the wrong hands.
He explained that the decoder would
be sold to Nigerians at a subsidised rate.
According to him, the landing cost
of the decoder is N28,000.
"We don't want a situation where
someone would pick our decoders and dump them somewhere. That is why we are
very careful because of competition," he said.
"We have received well over 6,000
applications and it has been overwhelming processing these people; but so far,
we have been able to accredit more than 748 dealers and we have received
applications from more than 3,000 of them.
"That is why we have not
commercialized our services even though we are the ones losing because we have
enough decoders to cover the whole of Nigeria.
"But it will be unfair with all the
money put in for us to give decoders out and those decoders don't get to the
end users."
How Many Staffs Does TStv Have?
The organisation
currently has 250 staff on direct employment, while it expects about 10000 to
be engaged indirectly at take off.
On the alleged copyright
infringement on two international content providers, Turner Broadcasting System
and beIN sports, Echefu said the company entered into partnership agreement
with every concerned organization.
According to him, TStv will air CNN
and beIN sports channels
Source: Thecable.ng