If you are a lover of tablet PC, you love the display of tablets in HD graphics, then you are surely going to love this tablet device.
When it comes to speed, it will beat your imagination, when it comes to Video
gaming and 3D gaming, its perfectly onpoint, Support OTG functions, the battery
can last your for a very long time without charging 7200mAh battery capacity.
Here comes Onda V919 Air CH Tablet PC, runs on Windows 10
4GB RAM 64GB ROM, 9.7 inch QXGA IPS Retina Screen, Intel Cherry Trail
processor, Z8300 64bit Quad Core 1.44GHz Cameras Bluetooth 4.0.
See the Key features below
CPU: Intel Cherry Trail Z8300 (Intel Atom X5-Z8300) 64bit
Quad Core 1.44GHz(up to 1.84GHz)
GPU: Intel HD Graphic Gen
8 processor
4GB RAM + 64GB ROM:
TF card: Up to 128GB (not included)
9.7 inch screen: Onda V919 Air CH has wide and clear screen, 2048 x
1536 (264ppi) IPS retina screen
Windows 10 system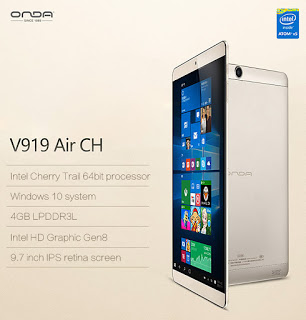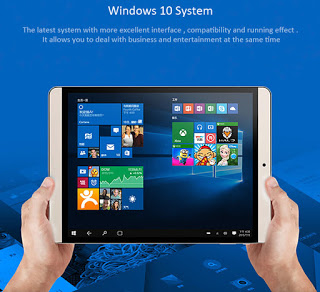 7200mAh battery
Bluetooth 4.0
HDMI output
OTG Function: Can connect with keyboard, mouse, projector and so on
Gravity sensing system
 
WiFi: 802.11b/g/n wireless internet
Other functions: WiFi/MP3/MP4/Calendar/Calculator supported
Price – $185.80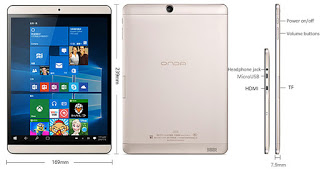 If you love real tablets that run on Window 10 OS, then you'll
love this one too.