There is nothing as annoying,
discouraging, moral killing as a blogger than you applying for
AdSense
and you
get that disgusting reply from  Google
that you have insufficient contents, or site doesn't comply with Google AdSense
policy.
I know a lot of bloggers  who has actually quit blogging because they've
been rejected several times. The truth is, it is so easy to get approved.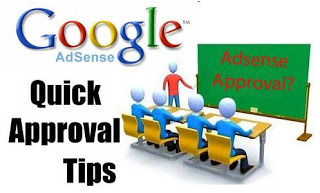 I know you have more than 100 blog posts
on your site but AdSense keep telling you "Insufficient content".  Or perhaps you always that "difficult site
navigation"… "we cannot approve you at this time"; the simple truth is, you can
easily get an approved AdSense account if you follow the guide below.
How Do I Get AdSense Approved Easily?
==>Write a unique 10 blog posts not copied from anywhere
on the internet.  The blog post should
not be less than 500 words. Even if you have posts that you copied from other
blogs, send them to drafts; and leave just 10 original blog posts coming from
you. Some people said you must have 20 posts, some say 15, but 10 unique posts
is just okay.
==>Those 10 blog posts must have atleast one original
image each. You can always create images/pictures easily by yourself. Don't
copy any image on the internet or be prepared to get moral killing reply from
AdSense.
==>You blog must have Home, About Us, Contact Us and Privacy
Policy Page. These four items plays a very important role in getting AdSense
approval.
==>Domain Age: Your domain age must be atleast 4months
old. I know some people still get approved with blogspot.com but I can't
actually vouch for that.
==>Your Blog Design: Those of you that must have been
rejected several times and you always receive messages like "difficult site
navigation". It simply means that your blog design is hard to understand or
will give your readers mind-ache. AdSense love simple plain design, that
maintain the KISS principle.
One of the mistake which I have seen many new bloggers make
is, they create a new blog with a crappy disgusting design, add few low content
posts and then apply for AdSense. Believe you me, even if I'm AdSense, I won't
approve you.
==>
Read all Adsense Rules, Terms & Condition:
Adsense
disapprove you because your blog doesn't meet their terms and condition. So
read it again
here
and fix all your mistakes.
Any question? Don't hesitate to use the comment box.