I love games most especially
Pro Evolution soccer 2017
, it
drained my stress, makes me forget about the wrong set of people I meet daily
and most importantly, help me cure bored moment.
These I Love About Pro Evolution Soccer 2017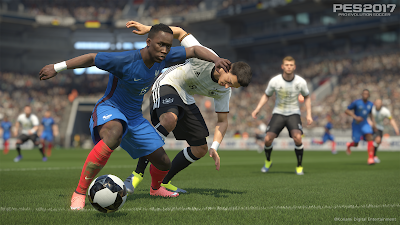 >>Its Full HD version for Android
>>It comes with a better graphics
>>I control my players in a more unique way
>>It comes with A1 Adaptive function that study how
you play and adapt accordingly
>>It requires Android 4.0 and above to function.
These I HATE About Pro Evolution Soccer 2017
>>It is an online game. Without active internet
connection, you may not be able to play
it
>>Despite the facts that I use a device with battery
supports of 4100mah battery, this game called
PES 2017
drain the hell out of my battery faster.
>>Exhibition game is not working for me
>>You need to spare additional 256MB to download
commentary.
>>I sacrificed 1.5GB data to download this game.
In all, it is a wonderful game and I'm still looking forward to
laying my hands on the offline game. Konami has really done a good job.
Those of you that have tried it out, share your experience
with us.