InnJoo is not just working hard to
regain the mobile market but they are working hard to give you the best
monster device in which you can always live to remember.
While also planning to release InnJoo
3, a device that supports micro usb flash drive with a metal body, they
unveiled yet another device called InnJoo V1.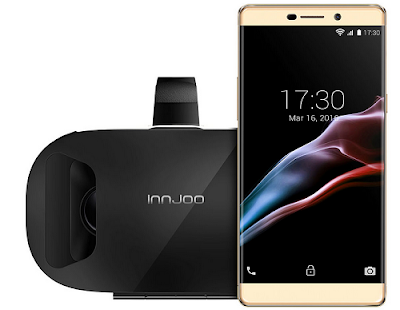 InnJoo V1
is not just a smartphone but
a device that is VR ready, bigger screen and runs on
Android 6.0 Marshmallow
out of the box, impressive camera and supports Fingerprint ID that takes 0.23s
to unlock. I'm pretty sure you'll be curious to know the full spec.
6 Things You Should Know About InnJoo V1
1. Innjoo V1 is a
6-inch Full HD IPS touchscreen with 1080 x 1920 resolution device.
2. The smartphone
runs Android 6.0 Marshmallow out of the box which is faster and saves power
more than its predecessor.
3. Innjoo V1 is
powered by a Mediatek MT6735A which has a quad-core processor clocked at
1.3GHz and 3GB of RAM Inside.
4. Internal
storage is capped at 32GB ROM which is expandable to 128GB via a microSD card.
5. Innjoo V1
supports 4G LTE network, has dual SIM slot and is backed by a powerful 4000mAh
battery
6. V1 sports 13MP
selfie camera with Led flash and 13MP rear camera with flash.
Highlights of The Spec
· 1.3GHz Quad core
Mediatek MT6735A processor
· 6-inch IPS 1920 x
1080 pixels Display
· 3GB RAM
· 32GB internal
storage expandable to 128GB
· 13MP rear camera
with flash
· 13MP front facing
camera with LED flash
· Rear
Fingerprint sensor with 0.23s time
· 4G
LTE , Wi-Fi a/b/g/n/ac connectivity
· 4000mAh
battery
· Dual
Hybrid SIM (Micro/Nano)
· 4G
LTE
· Android 6.0
Marshmallow
The price has not
yet been unveiled… but we are still waiting