Jumia Black Friday begins today, don't miss out, should in
case you have items, gadgets, or perhaps eye catching materials you'll love to
pick up, take advantage of the season. I'll always keep you updated on what to
expect each day as it unfolds.
Jumia Black Friday will run for 12 days and these are what
you should expect for the 12 days;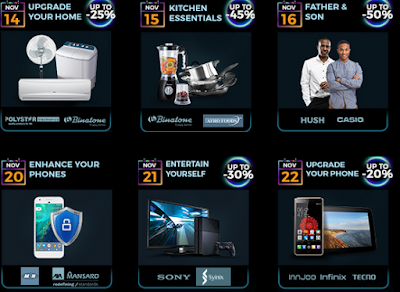 November 14th:
Upgrade you house with Binatone, Polystar. Up
to 25% Discount on Gas cookers, Electric cookers, Micro Wave ovens, Rice
Cookers e.t.c
November 15th: Kitchen Essentials Up to 45% Discount on kitchen Utensils.
November 16th: Father and Son
With Casio and Hush. Up to 50% Discount on Smart Watches, Shoes, Shirts e.t.c
(for men and the boys)
November 17th: Mother and Daughter with Casio and Canill. Up to 50% Discount on
Female wrist watches, Hills gowns e.t.c (for mums, ladies, and girls)
November 18th: Toddler's Treat. With Pampers and Kimberly Clark. Up to 55%
Discount on babies.
November 19th: Explore New Horizons. Up to 30% Discount on JUMIA Travels and
Nikon.
November 20th: Enhance Your Phone with MTN and Mansard. No Discount
November 21th: Entertain Yourself with Sony. Up to 30% Discount on Games, radio
sets and Television sets e.t.c
November 22nd: Upgrade Your Phone with Tecno, Infinix, Innjoo. Up to 20%
Discount on Phones, Tablets, Chargers e.t.c

November 23rd: Upgrade Your PC with HP, Intel, Acer. Up to 20% Discount on
Laptops, Desktops e.t.c
November 24th: Treat Yourself with Zaron. Up to 30% Discount on Lipsticks, Eye
shadows, Lip pencils e.t.c (for ladies)
November 25th: LAST DETAILS UNLOCKED.
Still more to come…