This feature has been available for beta testers for quite a while
but just rolled out to normal
WhatsApp
users.
WhatsApp
just became a
safer chat platform with the roll out of the two-factor authentication to 1
billion users.
2FA
is an enhanced security measure that adds a second layer
to the log-in process, making it more difficult for intruders to access your
account.
It's advisable for everyone to TURN-ON 2 factor
authentication but it's an optional features for everyone
How to TURN-ON 2Factor Authentication on WhatsApp?
>>First of all, make sure your WhatsApp is up to date
or you are running the latest version of WhatsApp
>> Go to account settings in WhatsApp, you'll
see a new Two-step verification option.
Tap it to get to a screen that explains what 2-step verification is and get the
option to enable it.
>> Enter a
6-digit passcode
that you'll be asked for
each time you try to register your phone number with WhatsApp, and confirm it.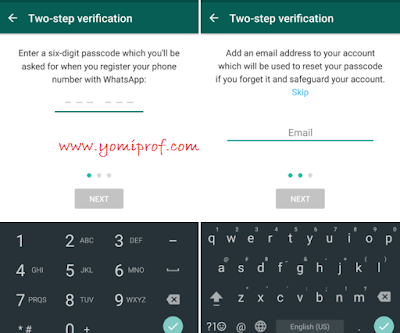 >> You'll also need to give an email address that will
be used to reset your passcode should in case you forget it.
Once that's done, two-step verification will be active on
your phone number. No one will be able to activate WhatsApp with the same phone
number unless they have the passcode or access to the email account to reset
it.