For some reasons, some us will like to have
multiples accounts
on
Facebook
,
WhatsApp
instagram, twitter or even the game that run on your
device. Perhaps if you have been wondering how to make this come through
without any hazzle, then this app will be handy for you to try out.
Go Multiple is a simple application that allows you to run
multiple account of any instant messages, be it Facebook, WhatsApp, Instagram
or twitter… including your most lovable games on the same device. It is
designed for users who have multiple accounts or who log in more than Two
Accounts of One App with only One Phone, while data of your main account and
second account are in parallel and separate storage.
Where Can I Download it?
For Android, you can download it
here
>>On installing, it will present you with options to choose
the messenger you wish to add multiple accounts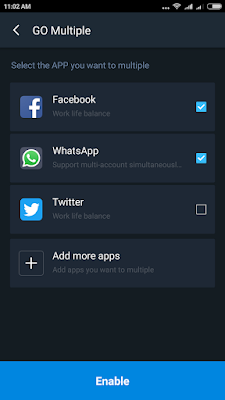 >>Choose and hit the enable button… complete the settings and
you are good to go.
Are you already using it? Tell us your experience.