This statistics from NCC shows that there are over
150 million active telecommunication lines in Nigeria using the GSM, CDMA or VOIP
networks. And data contributes immensely to the growth of the networks.
This statistics from NCC March-April shows that Nigerian Telecom
company lost over 1.66 million subscribers on its Global System for Mobile
Communications (GSM) network in March 2017. According to statistics, all GSM
operators witnessed a decline in its subscriber's population except Globacom during the month.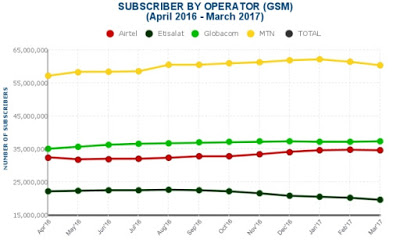 Information on active subscribers line of major telecom companies in Nigeria
(NCC Report, March 2017)
The information showed GSM operators' active customers
decreased by 1,662,350 on the 153,661,547 subscribers recorded in February
2017.
MTN loss 60,391,959 users, Airtel loss 34,656,605 subscribers, Etisalat
customers dropped by 566,408 in March 2017. In contrary, data from Globacom
showed an increase of 78,372, giving a total of 37,328,827 customers, as
against 37,250,455 in February 2017.
Increase in Globacom's active
customers is due to its competitive internet data plans. Hence, a lot of
smartphone users are switching to the network to take the opportunity of this
low internet data cost. But now that Globacom has reduced their data cap by
100%, will they still experience increase or decrease by the end of April?
Ntel
on the other hand is waxing stronger…
Ntel
had 58,590 consumers
subscribing to its products and services in March 2017 which indicates an
improvement from its 53,586 in February 2017.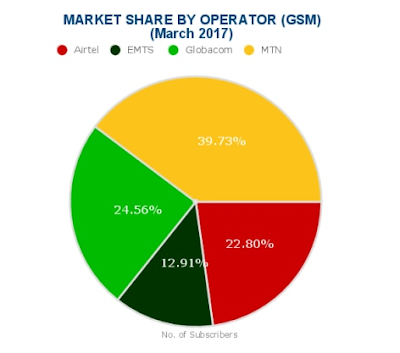 Nigeria GSM market distribution
(NCC Report, March 2017)