One of the most interesting aspects about this Nokia leak is that one of these units features a dual camera setup at the back. As posted by
Evan Blast
on a popular sharing website Vimeo, the video was posted by a longtime Nokia brand photographer who now works with HMD, serving as a very tangible bridge between the storied brand's past and its present/future.
As pointed out in a report by
venturebeat
, While Nokia 3 and Nokia 5 can also be seen in the 30 seconds video, which clearly seems to be shot professionally, the two phones on the left side (in the image down below) have not been announced by the company as yet.
Speculation has been heavy, though, partly because the leftmost device sports dual camera lenses on its backside, suggestive of a high-end, flagship-class phone. This has led some observers to posit that it represents the long-rumored
Nokia 9
— which has also been tipped to utilize a pair of primary cameras.
From last month reports, the Nokia 9 is expected to run Android 7.1.2 Nougat out-of-the-box and will sport a 5.5-inch QHD (1440×2560 pixels) OLED display. It is said to be powered by a Qualcomm Snapdragon 835 SoC coupled with 6GB RAM.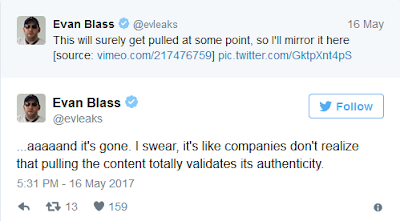 The other smartphone, second from left (in the image at the top), could potentially be
Nokia 8
. Or possibly a lower spec narrow down to Nokia 7 but will definitely be higher to spec to Nokia 6.
Waiting for more update on this.