If you have ever been ripped off by
DSTV
can I hear say
"Koboko fall on them"
… I know lot of you are not happy because of the rip off
from
DSTV/Gotv
but they are about to have a competitor called TSTV.
You probably must have heard about TSTV, a new satellite TV,
partnered with a Europe-based television station, ABS Global, to launch into
the Nigerian Broadcasting Service a Direct-to-Home (DTH) satellite TV. They are
suppose to have launched July 25th but was postponed to 1st
of October due to logistics.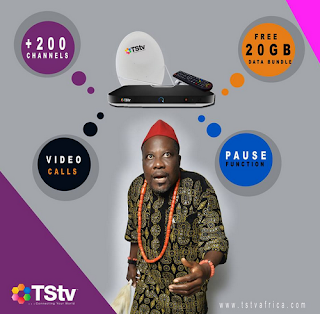 The New TSTV offers you Pay-As-You-Consume TV service,
meaning you only pay for what you consume.
The New TSTV Decoder offers 200+(but will be starting with
100+) Channels, Free 200GB of Data, Video calls, Pause subscription, Record
& Playback feature and more.
This is Everything You Need to know About TSTV Satellite
Launching 1st of October
How Much is TSTV Decoder?
TSTV Decoder + Dish will cost N5000, offers you 200+ Channels,
free 20GB Data, Video Calls, Pause subscription, Record & Playback feature and much more…
How Much is TSTV Subscription Fee?
TSTV Subscription fee ranges from N200, N500, N1000, N1500,
and N3000
Is Subscription Monthly?
No, You pay as you consume
What Channels Can I Watch on TSTV
TSTV shows Live Sport like UEFA Champions League, Europa
League, Premier League, Fox Sport,
Fashion Style, Nollywood, Series Movies, Movie Box, Trace
TV, TeleNova,Bollywood Fox, MBC, Kids Channels, Health and lifestyle and much
more
TSTV Service Locations?
TSTV will function in all states but according to what is on
their twitter page, they are suppose to launch in Lagos, Abuja, Port-Harcourt, owerri and Kano first before
other states.
Where Can I Buy DSTV Decorder?
It will be available Nation wide from 1st of October 2017.
How Can I be a Dealer or Sales Representative?
And finally, nothing like premium subscription as it is pay
as you consume, you are entitle to all channels.
Highlights of TSTV Decorder
-+200 Channels,
-Pause Function
-wifi: 20GB Free data
-Inbuilt Camera for video calling
-Affordable subscription
…and 50GB storage space.
Your can check See you 1st of October 2017.