I know you are all waiting to test run the TSTV decoder
most especially the free 20GB that comes onboard as jara with it. It was
finally launched yesterday and we are waiting for them dispatch their decoder
to various
dealers
.
So far so Good, these are all we know about TSTV
1. Equipment cost: TSVT decoder +Remote+
dish goes for N5000. This exclude installation cost. Depending on who will
be installing for you, it shouldn't be more than N1,500
2. 20GB of Data: On Purchase of TSTV decoder you get
free 20GB of data as a bonus but subsequently,
you'll get 10GB if you are subscribing
for a full month.
3. Pause Subscription: You can only pause your subscription for
seven days. Which means you have 7 days of grace plus your 30 days validity
period. Meaning you can't use your full month subscription for 60 days or more.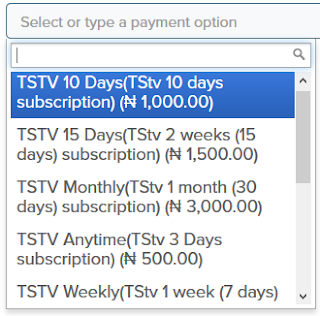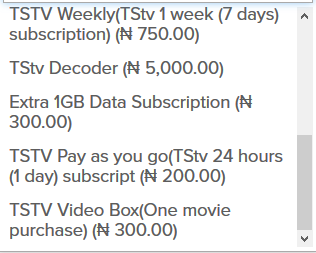 TsTv decoder packages on Quickteller
4. Pause Subscription is Only Available for 1 month
subscription plan
TSTV on Quickteller:
You'll be able to pay your
TSTV subscription
on Quickteller as it has now been added to the e-payment platform
5. Data Allocation: You don't need data to watch any TSTV
channels. It's just a Value Added Services to all TSTV subscribers. For
instance if you subscribe for 1 month, You'll get 10GB Free data from TSTV.
6. TSTV Movie Box: This box contains series of new movies
available for purchase for a token of N300.
7. Daily Subscription cost as low as N200, 3 days subscription
(N500), Weekly subscription (N750) etc.
Note that the data is usable on any devices available via
TSTV wi-fi. And you can always buy 1GB of data for N300 once you exhaust your
data. We await the sales of the decoder to commence. Dealers Allocation is
currently ongoing.
My Opinion
I don't think this will affect DSTV/Gotv. If you don't know,a new package Gotv Max has been introduced with xtra channels (La-liga on SS4, Fox, Sony Max, CBS Reality) the price is now N3,800. I'm pretty sure that some of you are only
attracted to the free 20GB of data and nothing more.
Either way, it is a good development… and this is why I love competition.