First and foremost, N6000 won't give you data worth 36GB but
Airtel is offering you 36GB + 15,000 airtime free of charge if you spend only N6000 to buy
this easy to use smartphone called Fero 1801. This is the latest promo from Airtel NG.
According to Airtel, "Get 36GB data + N15000 airtime over 6
months when you get a Fero 180/1 phone for just N6000!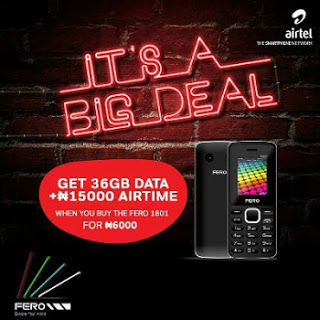 Fero F1801 is one the most basic Phone from Fero . It comes
loaded with Wireless FM and a 32MB of storage expandable up to 32GB via
MicroSD card. The dual SIM enabled Fero F1801
features 1.8 inch and powered by a 1,000 mAh battery . Like other
basic/feature phones from Fero , the Fero F1801 has a 1.2MP camera
.
Highlight of Fero 1801
Display: 1.8-inch
RAM: 32MB
Internal Storage: 32MB; expandable up to 32GB with
microSD card
Battery:1000mAh
Rear Camera: 1.2MP
Dimensions: 117x49x12.7 mm
Weight: 73.4g
Torch light
FM Radio
Connectivity : GSM 900/1800Mhz , Bluetooth/USB
, GSM/GPRS
How to Get 36GB + 15000 Airtime From Airtel
>>Walk into any Airtel store or
check here
to see the
Airtel store closest to you
>>Buy the Fero 1801 phone
>>insert your Airtel SIM card to get 36GB of data plus
N15,000 airtime instantly.
Note: The validity period for the Airtime and data is
6months
Should I Go for this phone?
If you spend more than N6000 on data and airtime monthly and
airtel network is superb in your location, then this offer will go well for
you. If not, just cat walk out of this thread and pretend as if you didn't see
it.
What do you think?