Glo has announced a new offer that extends the threshold of
unfair advantage for its teeming subscribers.
The mouthwatering bundle offer comprises the network's mini router, Glo
MiFi, with 16 gigabytes of data for just N16,000. In effect, the MiFi is as
good as being given out free of charge, considering the worth of the free data
bundle, Globacom stated.
If you have good glo reception in your current location, then your best bet
is to get this new MiFi router.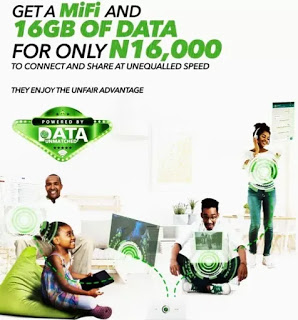 The 4G MIFI can connect up to 15 devices, including Smartphones, tablets,
laptops, desktops and the like, all at once. The Glo MiFi also adapts itself to
offices and events venues, being able to beam the Glo 4G wireless internet
signals over a wide expanse of space.
Upon activation "you will get the 16GB and it will be spread over 12
months". A further advantage of the Glo 4G MiFi is the power of Glo's 4G
network which comes with high speed internet service backed up by Glo1, the
company's transatlantic submarine cable.
So if you are in for this, head straight to Glo office closest to you and
get one for yourself.