Instagram is launching a new bokeh camera mode as part of its Stories camera UI dubbed instagram focus camera.
The Facebook-owned social network has been consistently updating Instagram Stories with new features ever since it launched back in August 2016, most recently by re-introducing GIF stickers.
The camera mode is called "Focus" and sits right next to "Superzoom". To access it, head to the Stories camera and swipe to the left twice. If the camera sees your face, it will blur out the background to create the "Portrait Mode" effect.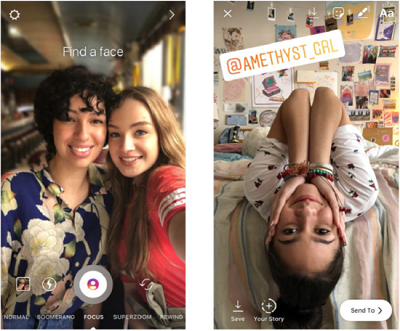 Focus mode allows users to blur out the background of their images, although it is currently limited to select devices.
This effect works on both the front and rear cameras, so you can take selfies or shoot portraits of your friends. The mode works with at least two people, but we're not sure if it can handle three or more.
In addition, videos will also support the feature and, once captured, both photos and videos can then have filters and stickers applied, as with any other content.
Supported Devices
Focus mode works on Apple iPhone SE, 6S, 6S Plus, 7, 7 Plus, 8, 8 Plus, and X. Instagram also says it works for "select Android devices", but no specifics have been mentioned as of yet.
Availability and Download
This comes with the latest version of Instagram 39.0 for iOS on Apple Apps store and Android on Google Playstore. For iOS, mention stickers are also rolling out so you can mention your friends in the stories that you post. You'll see it in the stickers menu under "@mention".