We are use to triple camera at the back which is no longer but new but the question is what will you do with triple selfie camera?
The trend is about to change and Chinese brand Meitu has a phone for you with triple selfie camera.
Meitu is a Chinese selife focused mobile brand preparing to launch a mobile phone with 5 cameras codenamed MP1801. The new phone has three selfie cameras and two rear cameras.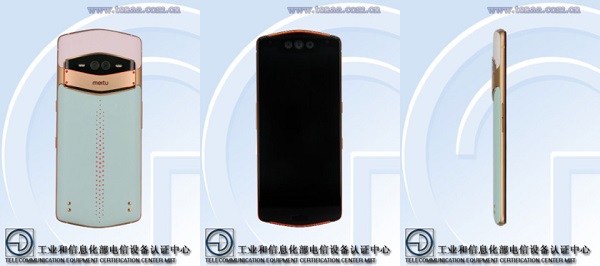 The triple selfie camera setup features 12MP, 20MP and 8MP snappers. It's unclear how these selfie cameras will be used, although we've seen wide-angle secondary cameras before. On the back and we've got a 12MP and 8MP pairing.
Spec wise, Meitu MP1801 smartphone will be coming with an unnamed octa-core chipset (2.6Ghz and 1.7Ghz,), 8Gb + 128GB or 256GB of onboard storage, 6.2 inch OLED display screen, fingerPrint ID and housed by a battery capacity of 3400mAh juice.
It's running Android 9.0 Pie (with customizations).
The question is, would you attempt to buy a smartphone with triple rear cameras?